From Smart Buildings to Smart Cities
Learn how Smarter Technologies' low-frequency network is helping organisations wirelessly monitor and control assets up to 10km away.
By Kewal Gupta
1st April 2022
While for most of history, making a building or campus area "smart" has meant investing in sustainability and energy efficiency, and approaches have recently focused more on ICT-enabled Smart building solutions.
Recent developments in Cloud and IoT technologies alongside new low-frequency connectivity have reached a maturity that can enable many new Smart Building services for the first time and extend the range of monitoring beyond the campus.
Smart Building solutions already go beyond traditional Building Automation Systems by leveraging common, horizontal platforms that enable data sharing across the various systems and services. They form a vital component within the overall Smart City ecosystem, connecting to and supporting many other application areas thanks to the range delivered by the latest wireless networks.
Why are Smart Buildings beneficial?
Smart Buildings bring cost savings, efficiency and sustainability improvements, and better health and well-being for occupants. Smart Buildings help increase the convenience of living or working in a building and improve the overall quality of living throughout an intelligent campus environment.
Ultimately, for property owners to reap the benefits of Smart Buildings for their business, they need to partner up with the right companies to assist them in implementing the different layers of the Smart Building framework. Smarter Technologies' is one provider that can deliver the technical and industry expertise to deliver increased value in making buildings intelligent.
Smarter Technologies' network and asset tags can drastically enhance the day-to-day operation of any enterprise, allowing managers to keep costs low and productivity high. Using the latest range of intelligent building sensors, building owners get complete visibility and transparency over all aspects of their buildings and assets.
Reaching further with Smarter Technologies' Orion Data Network.
The Orion Data Network from Smarter Technologies' is a low-power, long-range, real-time global tracking and monitoring network. The proprietary, military-grade communication technology runs on low-power radio, and the intelligent sensors, tags, and gateways deliver real-time, automatic updates to each user's bespoke management dashboard.
When placed on assets within a building, Orion tags work with the gateways to provide a succinct overview of all the tracked assets, their usage and output on one bespoke dashboard. Users also receive instant alerts and notifications for important events and triggers, such as water leaks, after-hours motion, temperature fluctuations, or other unusual circumstances.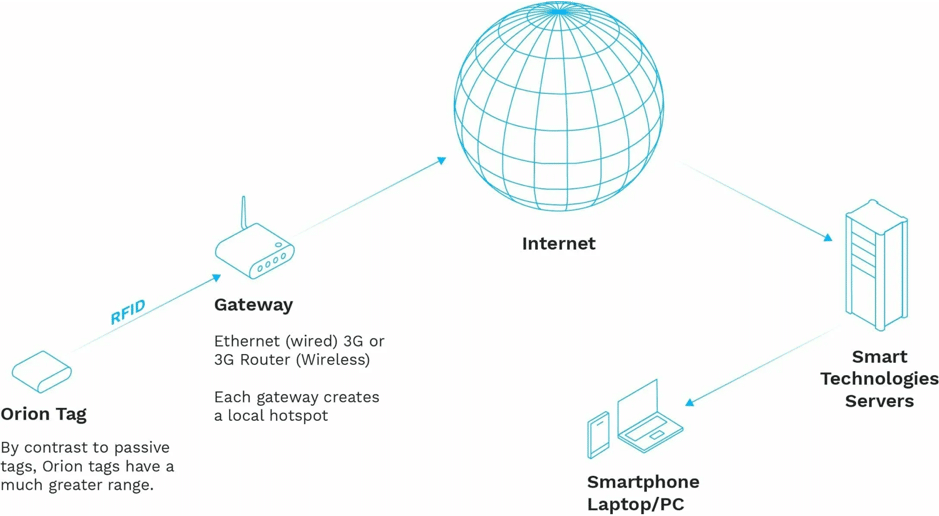 Advantages of the Smarter Technologies' Orion Data Network
SIM Free
There are no GSM associated costs with the Smarter Technologies' Orion Data Network.
Lower frequency than GSM
Thanks to the low-frequency signal, the tags on your asset network are visible no matter where they are (inside a building or room, corridor and even an elevator).
Reduced power requirement
The Smarter Technologies asset tags have enough power to last for years, so there is no need to swap out batteries or charge tags constantly.
Multi-functional
The intelligent asset tags from Smarter Technologies can track assets that indicate temperature, movement, shock and more.
Remote configuration
Asset tags can receive messages in all locations, including heavy data packets and configuration settings.
Coverage
Each gateway can deliver coverage from 500m to 10km, covering an entire town, city, or campus.
Recovery ability
The asset tags and gateways can easily switch from digital to analogue modes to increase recovery capabilities and accurate location finding.
Rapid deployment of infrastructure
The Orion Data Network allows for straightforward and rapid deployment no matter the scale of the location, thanks to its wireless infrastructure.
The impact of environmental legislation on smart building technologies.
Environmental and Health Compliance demands drive organisations to turn to Smarter Technologies' innovative building programs. Protecting public health and preventing contamination has become a significant focus area for building owners.
At the same time, keeping track of local and national changes in compliance is becoming onerous for building managers. To alleviate these challenges, the platform from Smarter Technologies automates many of the time-consuming maintenance and monitoring practices that managers experience and allows them to handle compliance from within an easily accessible application.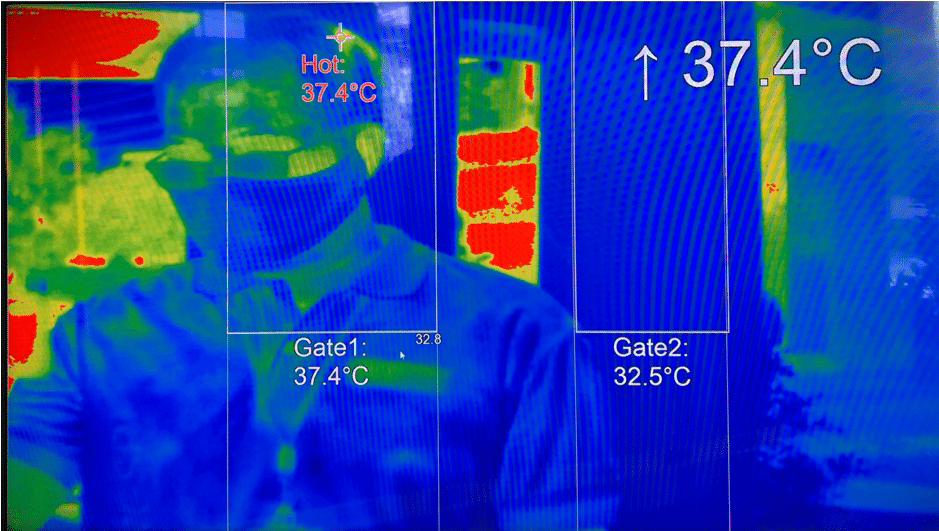 With Smarter Technologies' building monitoring solutions, users can gain complete visibility of their entire estate with real-time notifications, alarms, and asset tracking. Harnessing the power of the Smarter Technologies' Orion Data Network, users can observe and monitor their entire estate, person by person and asset by asset, from within a single interface.
Smart Building Monitoring Examples
Legionella Monitoring and Compliance
Smarter Technologies offers unique flushing and temperature testing system controlled via an intelligent platform. Users can ensure that their business stays within Legionella compliance regulations by efficiently scheduling tests and generating automated reports.
Smart Asset Tags
Users can run equipment more efficiently with Smarter Technologies'  intelligent tags, which allow them to track everything they need in their buildings. With dynamic control and efficient reporting across all assets, users benefit from insight-driven decisions that promote profitability.
Smart Lighting
Managers can easily switch out their current bulbs with Smarter Technologies' intelligent LEDs, giving them ultimate control of their lighting systems. Users can choose from any colour and lighting temperature, and more importantly, they can set specific operation times with automatic shutdown whenever areas of the building are vacant.
Occupancy and Building Movement Monitoring
Smarter Technologies' ground-breaking building movement monitoring system allows users to monitor buildings and staff with real-time information on desks, meetings rooms and other facilities. Intelligent monitoring enables users to securely manage their workforce, proactively making the best use of space and availability, improving energy efficiency, and encouraging staff collaboration.
Building Energy Monitoring System
The state-of-the-art Orion Data Network and building energy monitoring software allow users to monitor their building's utilities to identify where energy and cost savings are available. Additionally, the monitoring can help users identify where they can further diminish their carbon footprint. You'll benefit from automatic electricity load balancing, sub-metering solutions and peak power output control.
Air Quality Monitoring
Users can observe and monitor building air quality to comply with legislation while protecting staff according to health and safety regulations. Our outdoor sensors monitor the air for pollutants, and indoor sensors are perfect for insulated buildings where high occupancy affects air quality.
Building Temperature and Humidity Monitoring Systems
Smart thermostats connected to the Orion Data Network offer real-time temperature control in an intelligent building. Managers can also gain complete HVAC control and comply with minimum and maximum threshold warnings for fridges and freezers.
Fire Safety Equipment Monitoring
Users can keep their buildings safe and compliant with fewer time-consuming and labour-intensive manual checks on fire safety equipment. The Smarter Technologies' intelligent fire equipment sensors can monitor fire doors, fire extinguishers and smoke detectors – alerting managers immediately if any change of condition occurs.
—
Smarter Technologies is working with Tech Data to help organisations evaluate the Orion Network and their Smart Building technologies.
Channel Partnerships can set up a meaningful and tailored demonstration that will show Smarter Technologies' solutions working for a real-world evaluation.
Contact Channel Partnerships directly by calling: 01923 618099
Or email: info@channel-tools.biz
Join our Partnership Program
There are many benefits partnering with us. Simply complete the form at the bottom of this page to discuss how the program can sky-rocket your visibility in any technology market place. We have huge experience in the creation of new channels – and we can create introductions, leads and business opportunities for your sales teams.
Join us
Want to know how a Channel Partnership could benefit your business?
Complete the form below and one of our team will call you back: