Pfizer Uses Komprise Analytics and Transparent Move Technology to Cut Storage Costs by 75%
By Kewal Gupta
16th March 2022
Pfizer turned to Komprise to create an intelligent data strategy to manage their migration to AWS and leverage cloud efficiencies without disrupting applications or users.
Komprise delivers a unique cloud data management service that allows users to analyse quickly and access stored data and object data across clouds without shackling that data to any vendor. The Komprise Intelligent Data Management platform helps users take control of vast amounts of growing unstructured data while cutting on average 70% of enterprise storage, backup, and cloud costs.
Pfizer is one of the world's premier biopharmaceutical companies responsible for creating life-saving vaccines, including the Covid-19 vaccine. Pfizer had 5 petabytes of unstructured data in scope for its cold data strategy, 64 per cent of which hadn't been accessed for more than two years.
With no end in sight to their rapidly growing data demands, the company needed a plan for moving their cold data to the proper storage solution. Komprise helped Pfizer quickly determine what data was truly cold – and then easily tier those files to Amazon Web Services (AWS), drastically cutting costs while creating a global tagged data lake to drive research and innovation.
Importantly, for a company that relies heavily on data for research and testing, the initiative resulted in zero changes in how users and applications access the moved files.
"Amazon S3 provides a great foundation – the water in the data lake – that can help customers build on other services such as analytics, which integrate seamlessly with Amazon S3 and, with Komprise, can help customers unlock the value of that cold data."

Anthony Fiore, Senior Migrations Solutions Architect, AWS
Pfizer's existing on-premises storage environment is a global heterogeneous NAS environment. Pfizer's team needed constant visibility, a strategy for applying business rules for analytics, and better insight into their data storage and hosting.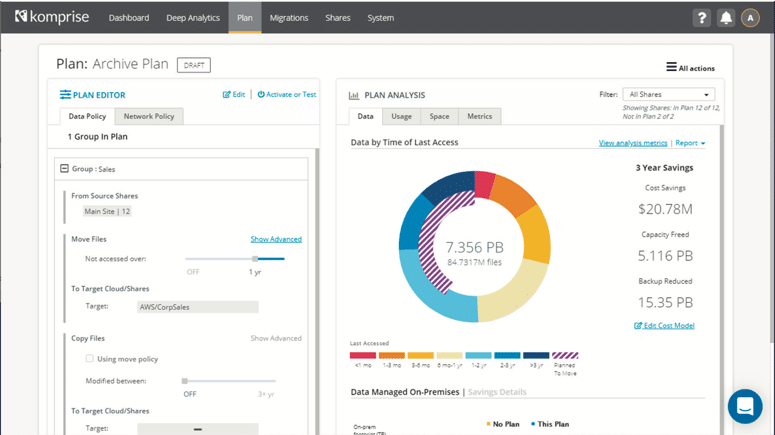 "With data growing exponentially, we wanted to look at a better way of using analytics, to have data on a highly available platform still, but to make investments where it makes sense," explained Matthew Braunstein, Director of Hosting Data Services at Pfizer. "And where it doesn't make sense to have a highly available platform, push it to a more cost-effective platform."
Komprise gave Pfizer a way to analyse all its data quickly and transparently tier cold files to AWS, cutting costs while building a global tagged data lake to drive business innovation.
"What sets Komprise apart compared with other solutions is the end-to-end process of analysing and moving data," said Caitlyn Possehl, Global Strategic Alliance Leader at Komprise. "You can use Komprise to scan all your data, analyse costs and create business rules and then Komprise will act automatically against those rules."
With a focus on research data on NAS, Pfizer found large amounts of data eligible for tiering. Komprise analytics helped Pfizer decide which data should be tiered to AWS by understanding what data was on NAS, who was using it, how much was cold, and what kind of data it was.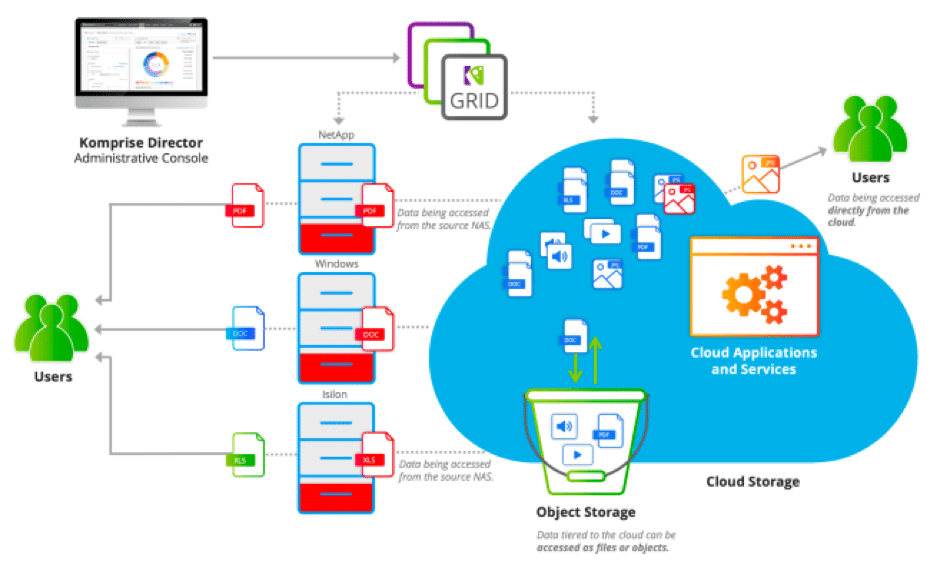 Komprise Intelligent Data Management deployed in Pfizer's on-premises NAS datacentre and archived data to Amazon Simple Storage Service (Amazon S3). Pfizer's cost savings in the first 90 days alone were enough to cover the total cost of the Komprise solution.
Komprise helped Pfizer stop 20 years of increasing storage costs in its tracks. Komprise used analytics across multi-vendor storage environments to manage Pfizer's data management and data movement to AWS. In the last year alone, Pfizer has migrated two petabytes of cold data to Amazon S3. They could tier unstructured cold data to the cloud without affecting or changing how users access it, which was crucial in the research and testing process.
The Komprise dashboard and management tools allow visibility, with a colour-coded data status and age, so the different stages of the data are identifiable.
"Many times, I come in and feel like it's Christmas morning because we had planned 100TB to go out the door, and it's 115TB because Komprise did their next scan and pulled some data I wasn't counting on that aged out."

Matthew Braunstein, Director of Housing Data Services, Pfizer
Pfizer now uses Komprise Deep Analytics to build different searches and queries on their data so they can create data lakes in AWS for further use in the cloud, leveraging insights from big data and AI, genuinely unlocking the data's potential.
"It's exciting that our researchers want to accelerate data movement using Komprise because they can analyse the data on AWS," says Braunstein.
The Pfizer solution also deployed the patented Transparent Move Technology (TMT) from Komprise, which helps users migrate, tier and replicate data across multi-vendor storage and clouds – while enabling native use of the data at each layer. Data movement in this way is possible without disrupting users and without vendor lock-in.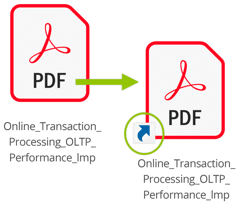 Komprise is the only vendor that provides transparent tiering from the source storage array while including native access to the cold data on the target – without getting in front of the live data.
Files moved by Komprise TMT appear exactly as they did before, without users noticing any difference other than a link icon. They open like normal files on the desktop and don't employ stubs or agents.
Key benefits of the Komprise solution include:
Clear access to moved files from the source storage device without obstruction.
TMT moves files by policy to secondary storage of your choice, such as the cloud. The solution leaves an industry-standard dynamic link that represents the source data.
Users and applications can still access and open the moved files from their original location by using these dynamic links without seeing any alterations.
File-object duality is preserved.
The Komprise solutions allow moved files to remain natively accessible as cloud objects.
When Komprise TMT moves a file to object storage such as Amazon S3, it writes the entire file as an object, unlike storage-based tiering. This means that users can directly access their moved data and extract more value from their static data.
Zero obstruction of hot data.
Komprise TMT moves data using standard protocol constructs, so it is not in the hot data path, unlike storage tiering, global file storage gateways and data virtualisation solutions.
Komprise is called when cold files are accessed, which happens rarely. This improves primary storage performance and allows you to run data analytics versus your file storage in the cloud.
No use of Stubs, Agents, or Proprietary Interfaces.
Komprise Dynamic Links contain all the file system information a user or application requires in a simple, scalable format.
No stubs or agents that are brittle and problematic to manage. No central database. Learn more about the fault-tolerance and load balancing of the Komprise Elastic Grid.
Minimise rehydration and egress fees.
Komprise TMT moves data at the file level with the file metadata fully preserved at the target, so the transferred data is accessed as files from both the source and the target.
With Komprise, you can use files in the cloud for file-based applications without bringing data back to the original NAS. This has the added benefit that your big data analytics projects don't tax your primary NAS.
It helps to establish a layered defence against ransomware.
Komprise customers can use immutable cloud storage via AWS S3 Object Lock to provide another layer of defence against ransomware.
Komprise enables organisations to protect file data from ransomware at 80% lower cost through a combination of transparent cloud tiering and replication of all data to an object-locked location with file-level isolation.
Overall, Pfizer saved over 75 per cent on storage and cloud migration costs by accessing the powerful analytics Komprise offers. Cost savings came from removing manual data management and having Komprise intelligently and automatically move cold data from high-priced, on-premises storage to more cost-effective storage on Amazon S3.
If it needs to, Pfizer can directly access the data in AWS as Amazon S3 objects natively without paying fees to Komprise or paying egress fees, further reducing cost concerns.
The business impact of data management with Komprise speaks for itself. Pfizer gained efficiencies across the organisation, and unlocked value from data moved to AWS, allowing them to reinvest those discovered resources into their central mission, driving better patient outcomes.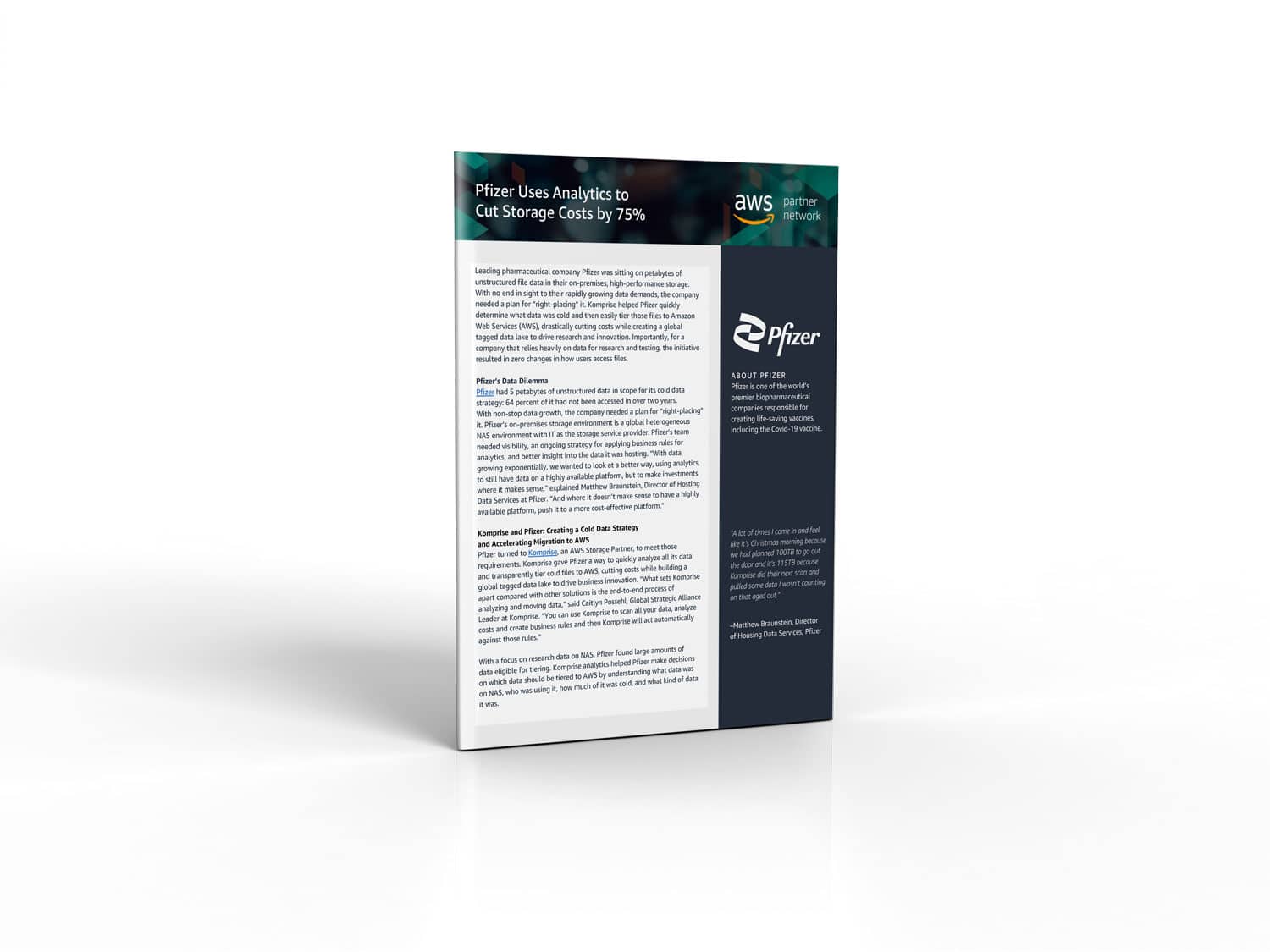 DOWNLOAD THE FULL CASE STUDY
Click here to download the Komprise case study in pdf format.
—
Channel Partnerships can set up a meaningful and tailored demonstration that will show the Komprise Analytics and their patented Transparent Move Technology™ working for a real-world evaluation.
Contact Channel Partnerships directly by calling: 01923 618099
Or email: info@channel-tools.biz
Join our Partnership Program
There are many benefits partnering with us. Simply complete the form at the bottom of this page to discuss how the program can sky-rocket your visibility in any technology market place. We have huge experience in the creation of new channels – and we can create introductions, leads and business opportunities for your sales teams.
Join us
Want to know how a Channel Partnership could benefit your business?
Complete the form below and one of our team will call you back: